Baccarat Pro by NetEnt in the Philippines
5.0

Loading...
1

gamblers voted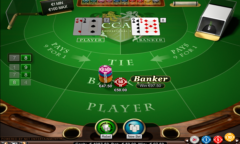 Provider

NetEnt

Min. Bet

1

Max. Bet

100

RTP

98.96%
Baccarat Pro by NetEnt Review
Hello and welcome to our friendly and helpful review of the PRO-version of Baccarat! If you're an advanced player, we are sure you'd have played Baccarat for free or by depositing real money in the past. It's the bomb, isn't it? Baccarat is both simple and elegant. This is a game of the elite, which eventually migrated to the virtual space. Well, it's time to tell you about the much more complicated form of the well-known game. As you already understood, it's called Baccarat Pro. It's powered by NetEnt, and the rest of the facts we will tell you right now, so take a seat, gambler, and let's go!
Baccarat Pro by NetEnt Features
Baccarat Pro was published by NetEnt in 2011, but you don't really feel these years. It has a modern design, eye-catching graphics and pretty smooth gameplay to provide you with a fantastic online playing experience. Before you start the actual game, you can try the demo version and play in practice mode to decide whether this game is really for you. However, you need to keep in mind that there are some extra specifications of this particular form of  Baccarat, although the rules are traditional. Some users really liked this new feature, and yes, we're talking about the Fast Play. That's the option of the game which allows you to turn off the animations and to make your gameplay quicker. There's also a history bar, which shows you the results of your last games. You can turn it on or make it disappear by going to the settings, but before rejecting all the new options, we really recommend you to try it. For those gamblers who were playing games for a long time that could be a life-changing experience.
Gameplay
To be honest, providers haven't really changed the rules of the game. They've just added some special things to the gaming process. As we said before, the basis is classic and well-known all over the Internet. The game is played with 8 decks with 52 cards in them. The player chooses the amount of the bet and one of the boxes on the table: player, banker and tie. Then the dealer gives two cards to the player and then to themselves. The aim is to score nine points or at least more than the dealer. Ace is one point, cards from two to nine are at par, tens and all the "pictures" will cost ten points. If you're just a beginner, it won't be superfluous to play for some time in practice mode in gambling site Philippines. It will help you not only to learn the rules but also to choose whether you want to make a bet or not.
Summary
Baccarat is an easy and fun table card game, which is the favourite choice of so many gamblers around the world. If you'd successfully played Baccarat before, you'll definitely like this new modern version, especially since now there are special changes to the gameplay, so go and play it for free, and then try to make a bet, because what's a game without winning? So may luck be with you throughout the whole playing process.
FAQ
🃏 What's the Fast Run? ›
It's the special mode, when there're no animations, thus the game runs faster.
🃏 How can I play in practice mode? ›
There're so many online websites that allow you to play Baccarat Pro for free. Practice and you'll be an excellent player soon!
🃏 How many decks are used in Baccarat Pro? ›
As usual, there're 8 decks with 52 cards in each of them.
🃏 When was Baccarat Pro released? ›
NetEnt released Baccarat Pro in 2011.
Best Online Casinos with Baccarat for Real Money