22Bet Casino in the Philippines
Many online gambling platforms are pushing to provide their services internationally; few have done it successfully. 22Bet casino is one of the few catering to players worldwide, with the Philippines being part of its reach. The platform has managed to do this by focusing on providing a seamless customer experience, despite a player's geographical location.
At 22Bet, you can transact through multiple currencies. This and the fact that the website and customer support offer multiple languages make players understand what they are getting and can communicate any issues effectively.
22Bet offers players the chance to participate in sports betting. There is also an option for gamblers who want to enjoy other casino games such as slots. In this review, we look at aspects such as banking, games, and support. Here we explore how each of these elements has been designed to make this one of the best choice casinos for Filipino players, despite what they are playing.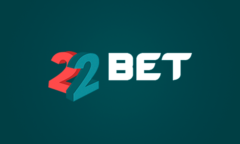 Deposit methods
Games
Providers
22Bet Casino Bonuses
During registration, you get two accounts for each part of the casino. The login and password for both are similar. This way, your wins, bonuses, and promotions are kept separate, making it easier to keep tabs. Players can easily switch from one side of the casino to the next.
This casino is generous in its bonus design, although most of them are accessible to players after establishing a relationship. The first offer you get is the welcome bonus, which is meant for all new players. This promotion comes with a 100% match for deposits of up to 18000PHP. You should claim the welcome bonus after registration and ensure to use it within the 7 days it is valid.
22Bet offers a weekly race bonus where players join the campaign, and they stand to be one of the lucky winners. The prize is shared amongst all the winners. On Friday, you get a sportsbook bonus that can only be used in the casino's sports betting section. There are new additions on promotions on the casino, so be sure to keep an eye out for anything that might spark your interest.
The VIP program operates in a point system. Players are awarded points according to the games they play and how much they spend. They can then redeem these points for prizes. Other bonuses you can get include the Friday reload offer and the game of the day bets. If you stake on the latter, you receive up to 60 free spins.
Gallery 22Bet Casino for Filipino Players
22Bet Casino Payment Methods
Gamblers get to pick from 175 deposit and 89 withdrawal ones. This wide variety can be overwhelming for most players since the banking method you chose determines the type of experience you have. Your options on 22Bet include e-wallets, bank cards, mobile options, and cryptocurrencies.
The payment method you choose should be flexible for your needs. Thus, the best way to settle on a method in this pool of options is to define what you need. Some of the things you should consider include:
Transaction costs – how much will you spend to fund your account or withdraw from it. Although some methods don't charge anything for the transfers, you should also consider charges from the banking institution.
Timeframes – how long do you have to wait to play if you deposit money to your casino account? If you request a withdrawal and the casino approves it, how long does it take for you to access your money?
Limits – what are the minimum and maximum limits? This ensures that you can play even when your bankroll is low, and you can access all your payouts at once.
Supported transactions – 22Bet has more deposit methods than withdrawal ones. This means that you will need to either find one payment method supporting both transactions or define what you need for each transaction. Most gamblers prefer to use one method since it makes it easier to track how much they are winning or losing.
Information on transactions limits varies from one currency to the next. As such, all PH players looking to gamble at 22Bet need to be keen on the details. Customer support can help you iron out which methods are available for you and the financial implications of transactions in your currency.

22Bet Casino Games
The casino has more than 1000 games, most of which are slots. 22Bet casino uses software from over 89 game developers, most of which are re-known in the industry. This means that gamblers can experience multiple game designs and enjoy the best possible features from each provider.
Additionally, the number of games is key to the upward progression that the casino is making in the international gaming world. Despite the number of games you play, there is always something you haven't tried. This way, Filipino players on 22Bet are always entertained.
Online Slots at 22Bet
The slot section of the game selection is a collection of adventures waiting to happen. Whatever your area of interest, there's a slot for you, and in some cases, you will get multiple options. It has some titles like Red Riding Hood that tap into your nostalgia.
You get to choose from an array of slot game options, some of which have the same theme and mirror each other in design while still offering unique experiences. You are likely to be spoilt for choice, whether you want to enjoy the simplicity of a fruit machine or gamble on titles with progressive jackpots.
Table Games at 22Bet
Are you looking to enjoy the variations of your favourite table games from the comfort of your home? 22Bet casino has a collection of some of the world's most popular versions of blackjack, roulette, and baccarat.
The good thing is, most of these variations have the same foundational guidelines, which makes it easy to hop from one to the next. This way, you don't have to deviate from your preferred play when you need a change.
Also, since the casino has demo versions for most, you can always start playing for free whenever you want to try a new variation. Then, once you are confident in skill, you can proceed to the real money game.
22Bet Software
The game selection at 22Bet casino is one of the most versatile you will see in the online gambling industry. Although most of the games on this casino are available on other sites, some aren't. The unique game selection and the convenience of access on one platform are made possible by using multiple providers.
22Bet casino uses both re-known and upcoming developers. This means that gamblers get to experience the best games from reputable providers who have perfected their art. They also get to enjoy the innovation from developers who are eager to establish themselves in the industry.
This allows players to make an informed decision about the games they play instead of settling for whatever is available rather than quality.
22Bet Live Casino
Understandably, while online casinos offer variety, convenience, big bonuses, and unlimited access, at times, it is easy to experience nostalgia for gambling at a land-based casino. Since it is impossible for all gamblers to up and leave the house for a brick-and-mortar casino whenever they feel like it, live casinos are a welcome feature.
Filipino players get to showcase their skills for an audience of gamblers from across the world. 22Bet casino offers you real-time dealer action and options in playing tables. You get to define the game, bet, and table, with a guarantee that whichever one you choose, you get high-quality graphics and fair gaming.
This part of the casino is only accessible to real-money players. Luckily, the minimum and maximum bets vary from one table to the next; thus, you will find something that works for your bankroll. Professional gamblers are opting for live casino games since they come with a higher payout. Before you jump at that prospect, remember that the risk for these games is also higher.
The 22Bet Live casino for PH players comprises games from multiple developers, so feel free to browse through your options.
22Bet Casino Mobile
The casino is highly responsive and can be accessed through multiple Android and iOS mobile devices. Your screen size does not affect the features offered or the quality of the display. However, some games demand that you turn your phone on the landscape to get the best experience.
You can either play using the instant play option or download the application. For the former, you will need to register as a member. Then, you can log in on whatever mobile device and start playing. Those that opt for the app get to keep tabs on their play more effectively, although the same feature is available for instant play.
If you want to download the app, it is best to get the software directly from the casino website. There are instructions on how to go about this. Follow all the prompts, and you will be playing on the mobile casino in no time.
Whatever method you decide to use for the mobile casino, you need to ensure that the device you use can support your play. Space and performance capacity in a mobile device influence how seamless your gaming is.
Since 22Bet offers mobile payment options, your mobile casino play is self-sufficient, and you can enjoy the game variety and incredible bonuses on the move.
22Bet Casino Support
Since it caters to players from different parts of the world, you can get support in over 50 languages. The casino offers multiple email options, and you need to define which category your issue falls under before reaching out.
You can reach out for complaints, security, and other account issues directly to the team tasked with handling those particular issues. This separation of use concerns helps ensure that you get the assistance you need promptly.
The support team is equipped to handle issues across the board. So whether you are looking to understand how the casino works or address a problem, you are assured of getting a helpful answer.
Security and Regulation
The Curacao government licenses 22Bet casino. It also has certifications from other re-known regulators. These aspects speak for the casino's reliability and its dedication to operating under the given gambling regulations.
The casino also participates in the Know Your Customer procedure, which focuses on player age and compliance with the given regulations. The security and regulations aspects of 22Bet focus on data protection, external access to information, and fraudulent activities.
The casino works to ensure that since all players are required to provide personal information when registering and other details for transactions, they do so without fear.
22Bet Casino Overall
This casino, owned by Techsolutions Group Limited, started its operation in 2018 and has made significant progress over the few years. One of the key aspects contributing to the establishment of this casino in so many countries is diversity. Evidently, user-experience is key in running the casino, hence the multiple languages, currencies, and rich game selection.
The following factors highlight the upside and downside to playing on 22Bet casino.
Pros
Many games
Multiple providers
Numerous banking methods
Excellent customer support
Cons
Bonuses do not apply to cryptocurrency players
Slow processing of withdrawals during weekends
22Bet Casino FAQ
What games can I play at 22Bet casino?

You get a pick of over 1000 casino games and more on the casino's sports betting part.


Can I play for free at 22Bet casino?

Yes. Some games come with a demo version for those who want to play for fun. Gamblers also use the free versions to familiarize themselves with games before playing for real money.


Which software do I need to download to play 22Bet mobile casino?

You can access the casino on any supported browser, or you could opt to download the mobile app.


Is it safe to play at 22Bet casino?

Yes. The casino has certifications and licenses from reliable bodies in the gaming industry. Furthermore, this casino continues to build its reputation as a dependable go-to solution in numerous countries.