Atlantic City Blackjack in the Philippines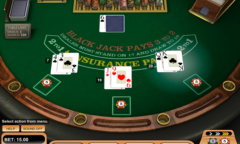 Provider
Microgaming
Min. Bet

1

Max. Bet

200

RTP

99.65%
Atlantic City Blackjack Review
Today we will tell you some important details about the game called Blackjack. You may know it as 21. Thousands of people around the world describe it as their favourite game and play it for fun or for real money. There're so many amusing types of Blackjack, that we are sure you've heard about many. Take a seat, as today you'll learn all the details about another form of the classic blackjack called Atlantic City Blackjack. It was born almost 50 years ago in a small town in New Jersey. Playing it today, it's easy to understand why it is still one of the trendiest online casino games that are well-liked all around the world.
Atlantic City Blackjack Features
This kind of Blackjack is produced by a well-trusted company called Microgaming, and that fact itself could convince you to play it. Every experienced gambler knows that it produces the highest quality games. Rules don't vary a lot from other Blackjack types. The main aim is to reach 21 points before the dealer, but without outpacing them. You can play the demo version in practice mode to get the hang of it first. For us, it seems important to mention that features of Atlantic City Blackjack are oriented to gamers. If you'd played Blackjack before, it won't be hard to win but if you're a beginner, we advise you to play the demo version first. You can double your hand only two times after a split. You may split different cards of 10 points. In the case of Split on Aces, this operation takes place once, and then you can get one card for the aces' splitting. The winning combo is recognized as 21 points and it won't get an increased payout.
Gameplay
The basis is pretty classic. There're 8 decks with 52 cards (with no jokers among them). You can place a bet on only one box. Right after you choose the box, the dealer starts displaying cards. The player and the dealer get their cards. All player cards are open, but there's only one face-up card of the dealer. If the dealer's card is an ace or ten at par (10, J, Q, K), the player can use insurance for the 21's trait. The set of cards always stops at 17 points (regardless of whether it is a "soft" or "hard" 17, that is, with an ace counted as 1 or as 11). It may sound complicated, but once you start to play, you'll get the hang of it fast.
Summary
First-class graphics adding to the excellent music and decent animation – that's what Microgaming is known for. The game design may be basic – it's a simple table with a few decks on it with attributes familiar to a regular casino on the internet. There is nothing superfluous here, so you can enjoy an excellent game for free imagining yourself in the Filipino casino, like a professional player.
FAQ
Can I have insurance at Atlantic blackjack?

Yes, it's allowed to get if your first card is an ace.

How many decks of cards are used?

There're 8 decks with 52 cards excluding Jokers.

How are Atlantic blackjacks paid?

It's different on every website, but Blackjack is mostly paid 3:2 odds.

What do hit and stand mean in the game?

You should select "hit" when you are ready for an additional card and "stand" when you do not need one.