Classic Blackjack Gold in the Philippines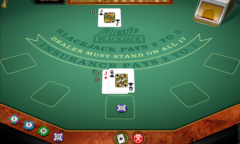 Provider
Microgaming
Min. Bet

1

Max. Bet

200

RTP

99.90%
Classic Blackjack Gold Review
As you've already understood from the title, this is the classic card blackjack. Traditional and beloved, it stays trendy over time. There are no exceptional features except because it is simply the foundation. It's the platform on which other Blackjack games were born. It's probably the easiest version and the less stressful one. One of the cards is for the dealer, and two are for the player. The online version of this game is fully powered by Microgaming, and it's one of the best providers in the world, as you may know. Let's take a look at this blackjack in detail!
Classic Blackjack Gold Features
We recommend you start your acquaintance with blackjack from this particular version because it will be difficult to master more complex ones without a full understanding of the basic game. There're so many top Philippines casino sites, where you can play the demo version for free. While playing for fun can be exciting, if you're confident enough, you should deposit some money to try your luck. There're no bonuses or opportunities to win a jackpot. However, the rules are easy to learn, so if you're a beginner, you can take some time to practice for as long as you need to learn how to play correctly.
Gameplay
There're a few classic rules that usually just move from one type of game to another, deforming into new versions of themselves. However, let's discuss the original rules of the Blackjack. The dealer gives you two cards, and another card goes to the dealer. Your aim in this game is to get as close to 21 as possible. But remember: that's the goal of the dealer as well, so that would be the real battle. After seeing what card the dealer has, you can decide what to do next. You have a few options. You can hit or stand, but also there's a possibility to double your bet, split your cards or to insure if you suspect that the dealer is more likely to get Blackjack. There are also some caveats. For example, a double can be done on "hard" 9, 10 or 11 points. Split is allowed just once. You can take several cards to the split aces. There is no blackjack after a split.
Summary
The classic, the nostalgic, the one and only. This version of Blackjack is always relevant. You can play it just for fun or become the greatest player. It would be much more convenient for you to play other types of Blackjack if you become a master of this one. Therefore, it's necessary to know every detail about the Classic Blackjack.
We're so lucky to live in a world when you can just pick up your phone and play a real casino game on the Internet like you could at a real casino. That's incredible! So enjoy this bar atmosphere, this motivational music and high-quality graphics. Because of the quarantine, we're not able to go out just to play some games, but, thankfully, there're the online versions of our favourite things.
FAQ
How many times should I play this game to become a professional?

That's on you, fellow gambler. For some, once is enough, but some are not quick-learners. Having played enough times, though, we are sure you'll be great.

How many decks are used when playing Classic Blackjack?

There's just one deck with 52 cards.

Are there any special features?

The specification is that the Classic version doesn't have any. It's just the basic set of rules.

Is it necessary to make deposits just to play Classic Blackjack?

No, it's not. There're dozens of different free demo versions; you can try any of them!